Comprehensive Care Starts with Us
Through comprehensive eye care strategies, we can help preserve your sight and help you see life with clarity.
But the very first step is having an eye exam. Eye exams are the cornerstone of eye care, and they give us fantastic insight into how your eyes work and how we can support them.
By looking for potential eye diseases and conditions during every eye exam, we can preserve your sight for today, tomorrow, and beyond.Become a visionary and visit the Visionary Eye Care team today.
Book Appointment
Why Your Eye Health Matters
Your eyes are made up of several systems that work together to provide your sight. Diseases or conditions can damage these systems, leading to possible vision loss.
In some cases, these diseases can progress without showing initial symptoms.
We can detect these issues using diagnostic equipment and personalize a plan to preserve your eye health.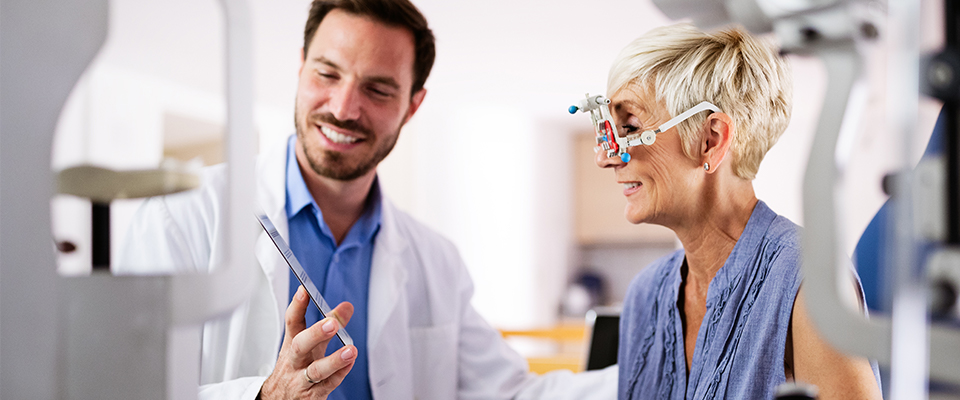 Detecting Eye Diseases & Conditions
Technology has revolutionized the way we detect and treat eye diseases.
Using various modern technologies, we can provide accurate findings and create personalized treatments tailored to your unique needs. Some of the most common technologies we use include:
Optos Retinal Imaging
Optos retinal imaging is an ultra-widefield imaging technology that can help us view and analyze the retina.
It creates an image we can use to detect ocular diseases such as glaucoma, macular degeneration, diabetic retinopathy, retinal tears, and age-related macular degeneration.
Corneal Topography
Corneal topography is an imaging technology that creates a detailed map of the surface curvature of the eye, allowing us to detect abnormalities in the cornea.
By analyzing this map, our team can detect keratoconus, astigmatism, and other corneal disorders.
Tonometry
Tonometry is a technology that can help measure the pressure inside the eye.
It's used to detect glaucoma, an eye disease characterized by high intraocular pressure (IOP), which can cause irreversible damage to the optic nerve.
Glaucoma Risk Factors
Glaucoma risk factors may include:
A family history of glaucoma
Extreme refractive errors
Past eye injury or trauma
Use of certain medications
Heart disease, diabetes, or high blood pressure
Common Eye Diseases & Conditions
Eye diseases and conditions are common health concerns in adults.
These can range from minor issues such as dry eyes to more serious problems like age-related macular degeneration or diabetic retinopathy. You may experience vision loss if the issues are left untreated, but regular eye exams can help detect and address problems early.
Glaucoma
Glaucoma is a group of eye diseases that affect your optic nerve. Most types of glaucoma can occur alongside rising or unstable IOP levels, but others can develop even when your IOP is in a normal range. We can detect glaucoma by measuring your IOP or observing your optic disc.
Age-Related Macular Degeneration (AMD)
Age-related macular degeneration (AMD) is a common eye condition that most commonly affects adults over 55. It impacts the macula, the area of the retina responsible for providing central vision. As it progresses, AMD can make it harder to see fine details and even read.
Diabetic Eye Diseases
Diabetes is often associated with 2 diseases that may cause severe vision loss: diabetic retinopathy and diabetic macular edema. Over time, these conditions can gradually lead to blindness if not treated properly.
Learn more about these issues when you visit our Diabetic Eye Exams page.
Keratoconus
Keratoconus is an eye condition characterized by slowly thinning cornea tissue. As these tissues thin, the cornea can bulge forward, leading to irritation, poor vision quality, and difficulty wearing contact lenses.
Learn more about keratoconus when you visit our Keratoconus Treatment & Management page.
Cataracts
Cataracts are a common age-related eye condition where the proteins in the eye's lens break down and clump together, causing it to become more rigid and opaque. This can lead to poor vision or even blindness if left untreated. Treatment for cataracts includes surgery, lifestyle changes, and medications.
Dry Eye Syndrome: A Common Source of Discomfort
Dry eye is a condition where the eyes don't produce enough quality tears to keep them hydrated and comfortable.
The risk of developing dry eye can increase with age, but you may have a higher risk depending on your overall health and eyelid hygiene. If you're struggling with discomfort, we can examine your eyes to determine the source of your symptoms and personalize a treatment plan.
Some of the treatments include eyelid hygiene products and punctal plugs.Learn more about dry eye by visiting our Dry Eye Treatment page.
OCuSOFT Hygiene Products
OCuSOFT eyelid hygiene products offer a quick, easy, and effective solution for maintaining clean and healthy eyelids.
These products range from cleansing wipes to scrubs and gels, providing a gentle yet effective way to remove debris from eyelids and lashes. They also help to reduce symptoms such as redness, irritation, and discomfort associated with dry eye.
Punctal Plugs
Punctal plugs are tiny medical devices inserted into the tear ducts to slow down the loss of tears from the eyes. This helps to keep the eyes wet, reduce symptoms of dry eye, and improve overall comfort.
Book Your Appointment Today
Get an eye exam with Visionary Eye Care today and learn about your eye health management options. Book an appointment now and take control of your ocular health!
Book Appointment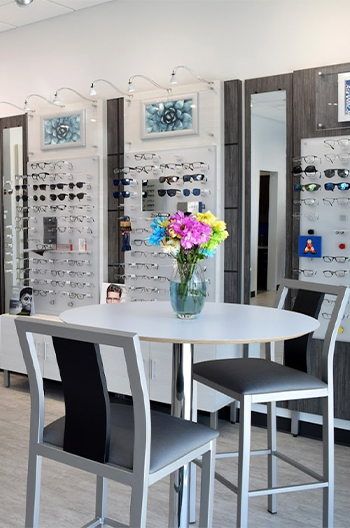 Visit Us
Find us on Sheridan Parkway near the Chase Bank and next to Blake's Taphouse. Accessibility-friendly parking options are available in the front.
16860 Sheridan Parkway, Unit 106

Broomfield

,

CO

80023-8989
Hours of Operation
Monday

:

10:00 AM

–

7:00 PM

Tuesday

:

9:00 AM

–

6:00 PM

Wednesday

:

8:00 AM

–

5:00 PM

Thursday

:

8:00 AM

–

5:00 PM

Friday

:

8:00 AM

–

5:00 PM

Saturday

:

8:00 AM

–

1:00 PM

Sunday

:

Closed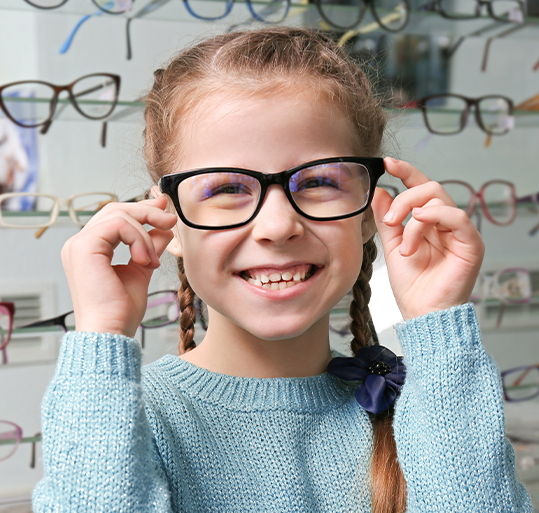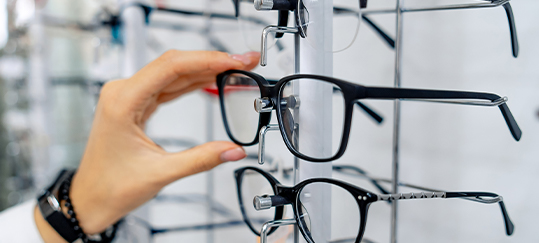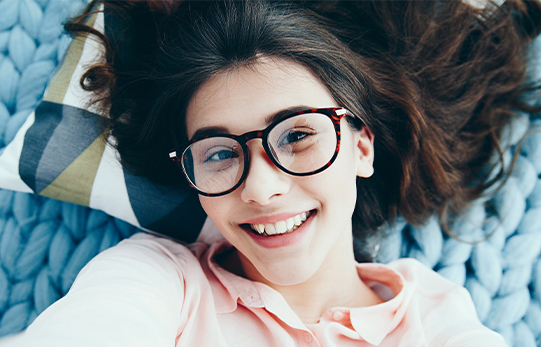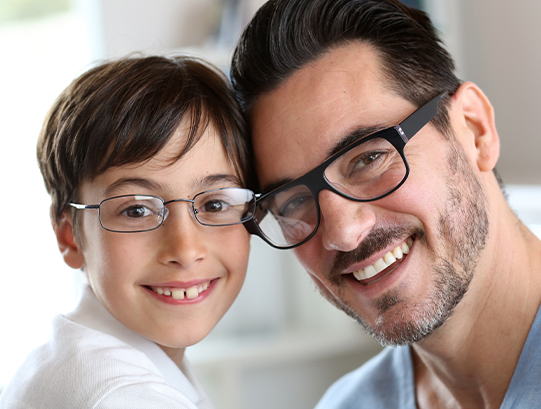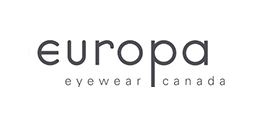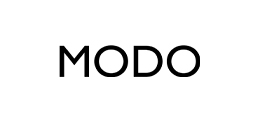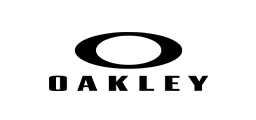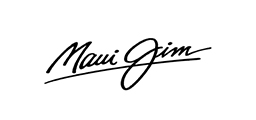 Check us out on Instagram
This error message is only visible to WordPress admins
Error: No feed found.
Please go to the Instagram Feed settings page to create a feed.